COMPLIANCE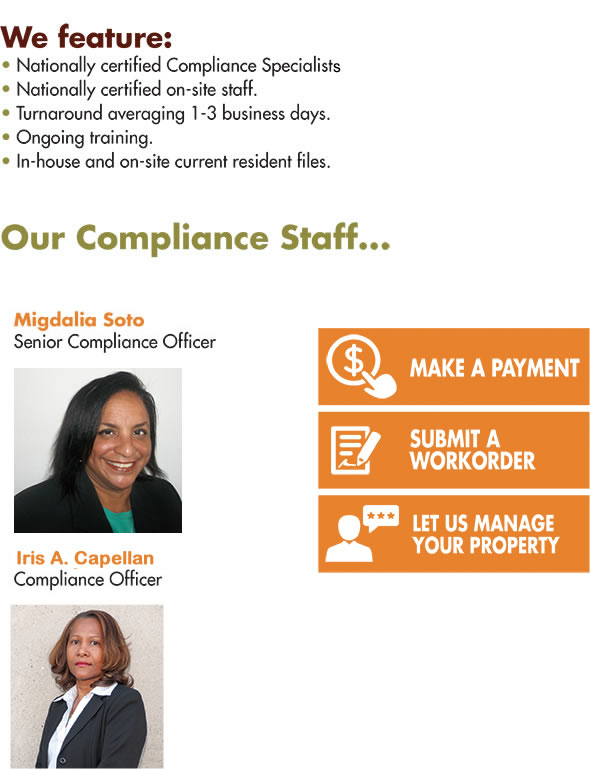 Faith Asset Management, LLC has an experienced in house compliance staff that stays current with the rules and regulations of the Department of Housing and Urban Development.
Why Compliance Matters…
To Residents: Makes certain rent has been determined properly and all deductions are appropriately given.
To Federal Regulators: Ensures that the subsidy payments sent each month on a housing contract are properly figured and not overpaid or underpaid.
To Owners: Assures that your investment is managed in accordance with all applicable regulations in an ever-changing environment.
To the Managing Agent: Our reputation is important to us. Compliance breeds consistency, conformity, adaptability, and equitable treatment. We take pride in our ability to stay abreast of changes in federal regulations and our rapid implementation of those changes into our procedures. It's a big part of our successful reputation and that reputation is important to us.
The bottom line: If you aren't in compliance, you won't be in business very long. Our compliance team is on top of every government change and regulation as they are released. It is as essential to the success of your business as it is to ours. Upon request, we can provide you with the ratings we've received from government agencies over the years on our projects and you'll quickly see that Faith Asset Management, LLC is a company that pays attention to compliance.
Individual Tenant Approval Process
Faith Asset Management. LLC combines the knowledge of our compliance department with the ongoing training of site staff for quick and accurate qualification of prospective residents. By having an in-house compliance department, site staff has an immediate resource for any questions or needed clarification while meeting with a prospect or reviewing their file. Meanwhile, Faith Asset Management, LLC's site staff takes pride in making the income qualification process an integral part of the overall community tour. Together their training and expertise in making a prospect feel comfortable results in a quick turnaround of compliance approval in the most accurate and efficient way.
We feature:
Nationally certified Compliance Specialists.
Nationally certified on-site staff.
Averaging 1-3 business days.
Ongoing training.
Review/auditing of in-house or offsite files for HUD/Tax Credit/Finance agency compliance